Infographics are a way to represent data in a visual, graphical form. Their primary advantage is that they give information to readers in a way that it can be understood more easily and quickly. In addition, people generally find them more appealing than just text.
Why use infographics?
While infographics have always been a good way to present information, they have been growing rapidly in popularity. One reason is that there are now many tools that make creating (and distributing) them easier than ever before. As they are not technically challenging, many people find creating them fun.
As most people notice and absorb what is presented to them visually much better, they are a way to grab people's attention and get a point across quickly. Furthermore, infographics are very suited for the social media marketing as they are easy to share and quick to digest.
Furthermore, they can be relatively quick to make. The information you already have in an existing article can be turned into an inforgraphic. Once it is made, as it is an image, the same infographic can be used to build a number of links from different sources.
The basics of infographics
Not just any image and information will do. The foundation of any infographic are interesting, sound, up-to-date facts from reputable sources. If you have a site with popular articles, the most read ones may be a good place to start. Whatever the source, it is crucial to have your audiences' needs and wants in mind when you are making it. The goal may be an emotional or other reaction.
Some basic rules for infographic design
Vertical designs usually work best.

Consider including an unobtrusive logo or other branding in case someone uses the infographic without linking back.

Choose fonts wisely: Don't try to pack in too much information but use larger, readable and attractive fonts. It needs to center on graphics and not words.

Colors matter: There should not be too many colors, and they must match the theme and tone of the graphic.

Don't be promotional: The primary goal is to inform, amuse, etc.

Avoid complexity: You should be able to explain the overall theme of your infographic in a single sentence.

Be original: Infographics always following standard designs with obvious information are not going to attract much attention.

While they are the most challenging, interactive infographics are most likely to grab people's attention. Some good examples can be found here. 
Creating infographics
With the following services, making infographics is more about creativity and artistic sense than technical ability. Much of the creation process uses drag-and-drop software and does not require a lot of technical skill. You can use free themes, easily create charts and so on.
Find more tools here.
The headline will be vitally important. Some common types of headlines include: number of ways, addressing a problem, how-to headlines and asking a question.
Those with little time or artistic inclination can outsource the process. While a search will turn up many services, these tend to be pricey. If you have limited resources, freelancers can be hired much more cheaply, and most internet marketing forums will have inexpensive services offered on them.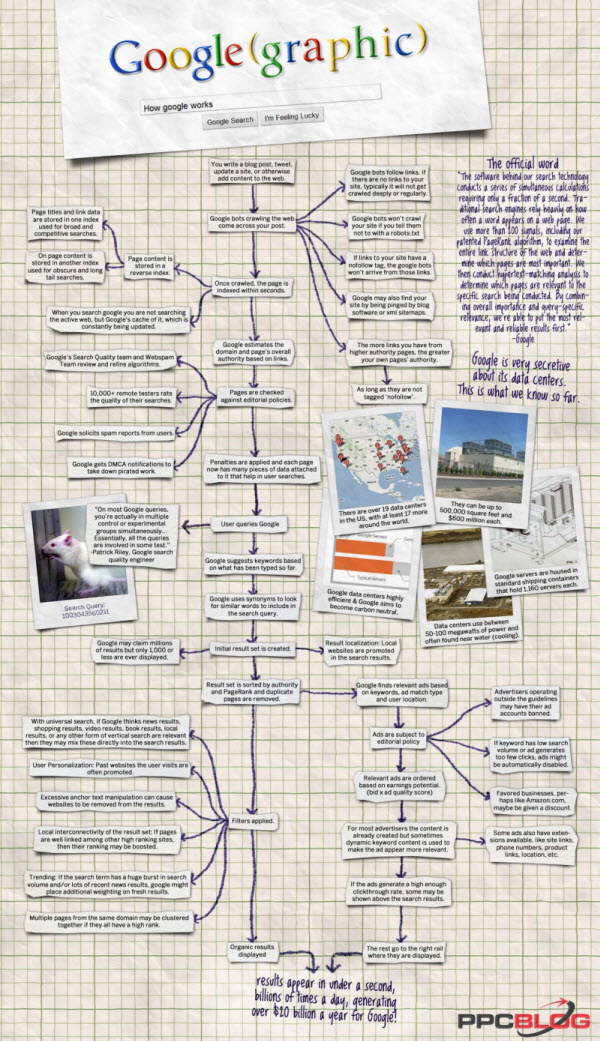 Infographic by the Pay Per Click Blog
Using your infographic to attract visitors and SEO
When posting your infographic on your site, make sure it can be easily shared. Not only the post, but readers should be able to copy and paste the infographic code containing your link to their sites. To do this, there are the following embed code generators:
As an image will not lose its value as duplicate content when posted on a number of sites the way an article will, you can use it much more extensively.
You can start by sharing it on your social media accounts and submitting it to various inforgraphic sites, with the top ones listed below.
http://www.flickr.com/

https://www.pinterest.com/

http://www.infographicsshowcase.com/

http://dailyinfographic.com/

http://infographicjournal.com/

http://www.infographicsarchive.com/

http://visualoop.tumblr.com/

http://visual.ly/

http://www.coolinfographics.com/

http://www.vizworld.com/
Some have paid submissions, and others are free. A more complete listing of sites and their costs, if any, can be found here.
Other options include:
Contacting other sites and offering the infographic in return for a link (you may also want to offer an article) in the same way you would build links through guest blogging.
MyBlogGuest has a service that allows you to give one infographic different descriptions and offer it to other blogs to post in return for a link.

Translate the infographic into other languages

Reformat the graphic as a video and distribute on YouTube and other places as you would in video marketing.
Offer it to your readers on your email list (see email marketing)